The Apple Bluetooth keyboard is one of those rare, indispensable devices I couldn't live without. It's wireless, it's portable, and I love typing on it. There's only one problem: When the keyboard's batteries run out of juice, it stops working. This can be an issue when I'm working away from home or trying to meet a tight deadline.
Fortunately, there's a quick way to check the keyboard's remaining battery life. Here's how to do it:
From the Apple menu, select System Preferences.

Click Keyboard. The window shown below appears.


Check the Keyboard Battery Level in the lower-left corner. This is the percentage of battery life left in your Apple Bluetooth keyboard's batteries.

That method works well, as long as you remember to check System Preferences. For those of us who are more forgetful, OS X displays helpful reminders when the batteries have 10% or less battery life remaining. The Bluetooth icon will appear on the menu bar, whether you have it disabled in System Preferences or not, and it will be flashing. It's pretty noticeable. Click on the icon, and you'll see the menu below.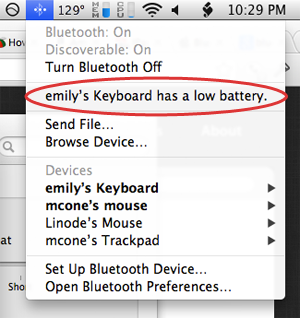 There are also other alerts displayed. You'll see windows appear for a couple seconds indicating that the keyboard's batteries are low. Finally, when the thing is about to conk out, you'll see an alert telling you that the keyboard could power off at any moment. And in case you're wondering, yes, the alert is telling the truth and you should replace the batteries as soon as possible — you'll have to replace them soon anyway!


Related Articles
Meet Your Macinstructor
Matt Cone, the author of Master Your Mac, has been a Mac user for over 20 years. A former ghost writer for some of Apple's most notable instructors, Cone founded Macinstruct in 1999, a site with OS X tutorials that boasts hundreds of thousands of unique visitors per month. You can email him at: [email protected].