Back to School Apps for Your Mac
Matt Cone July 20, 2007 Tutorials Mac Apps
---
It's that time of the year again. Time to think about breaking out the books, looking sharp for all the attractive members of the opposite sex, making new friends, and hopefully learning something. We're talking about school, of course. Let us tell you: There's never been a better time to take your Mac into an educational environment. Free and low-cost programs can help you turn your Mac into the ultimate learning device, and prevent it from becoming another glorified MySpace machine!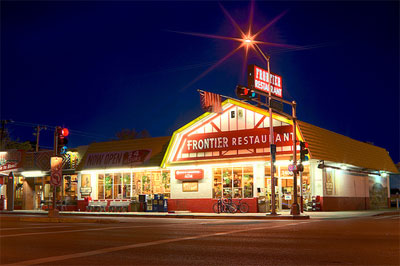 If you're attending the University of New Mexico, you'll inevitably find yourself at the Frontier Restaurant - an Albuquerque staple for over thirty years. While you're there, you can upload some pictures to UNM's Flickr website, which is where we found this one.
As with any investment, it's wise to protect your Mac and do some homework before you start using it at school. Here are some general tips for those about to take their Macs into the wild:
If you're going to be using an Apple portable at school, buy a lock and use it when you're in public areas. (Yes, this includes your dorm room.) We know it's a pain, but it can prevent somebody from walking off with your fancy MacBook. It happened to our PowerBook G4 a couple years ago, and it can happen to you, too. Don't risk it!
Look into purchasing insurance for your Mac. If the unthinkable happened, at least you would be able to purchase another computer.
Most colleges provide computer recommendations for incoming freshmen. Some even go so far as to say that Macs won't work with their networks and technology infrastructures. Don't believe them - you can make your Mac work with just about any network and group collaboration package!
There are several websites out there designed to help you use your Mac at school. Macversity is one such website. This handy little blog provides real world tips and tricks from somebody in trenches!
Now, on to the must-have school applications…
Software for Starving Students
Free (Donations Requested) - http://softwarefor.org/
There are a lot of Mac applications out there. If you don't know where to begin, Software for Starving Students is a great place to start. This package includes dozens of free applications that no Mac user should be without! It comes loaded with a complete office package, instant messaging applications, a web browser, multi-media programs, and of course plenty of academic tools.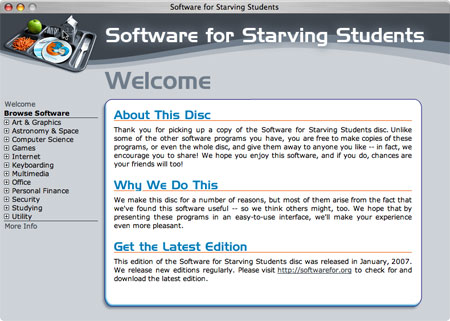 Sure, you could just download each of these applications individually. But most of the students we know are too lazy… err, busy to do that. This package allows them to install a bunch of great applications in one fell swoop.
Task List
Free - http://idisk.mac.com/gonfunko/Public/tasklist.html
You're going to school and you have lots of homework and reading. Then there are the labs, group assignments, and tests to keep up with. How do you keep track of it all? You use Task List - a free application that help you keep track of homework, tests, projects, grades, notes, and more.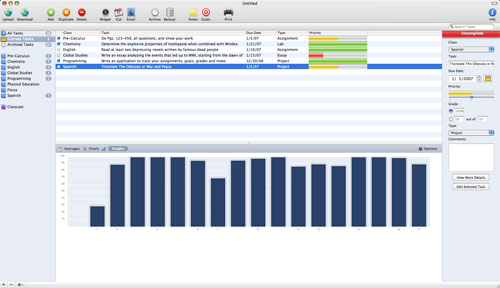 The best part? Task List allows you to create "Classcasts" to keep in touch with your professors and classmates. Plus, you can export to iCal, iPods, web pages, and even RSS Feeds. Hot!
Schoolhouse
Free (Donations Requested) - http://www.loganscollins.com/schoolhouse/
If Task List isn't quite your style, try Schoolhouse - another free homework manager for Mac OS X. Macworld recently reviewed this application and gave it four out of five mice. Personally, we miss Task List's export options, but we really dig Schoolhouse's Mac-like look and feel - it's just about perfect.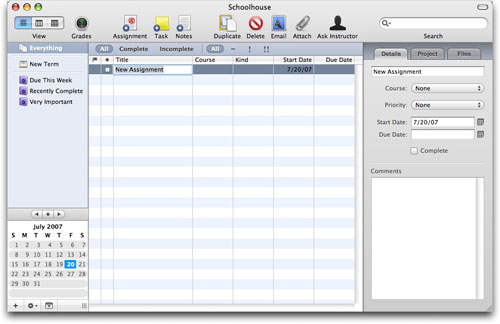 Give it a whirl and see if it works for you. If you don't like either Task List or Schoolhouse, try out yet another free Mac homework manager: iProcrastinate. It's pretty slick!
iFlash
$14.95 - http://loopware.com/iflash/
How many decks of index cards have you gone through to make your flash-cards? If you're like us, you've gone through too many. Get ready for iFlash - a program that helps you create virtual flash-cards on your Mac. This handy application lets you print your flash-cards, export flash-cards to your iPod for last minute study sessions, attach images to your flash-cards, and even download over 900 pre-made flash-card decks from other iFlash users.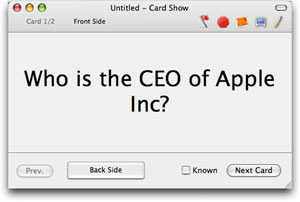 This application is a must-have for anyone studying stuff that requires a lot of memorization. Foreign language courses and Chemistry come to mind.
Library Books
Free (Donations Requested) - http://haroldchu.id.au/index.php?q=node/2
You check out books to do research and leave them in your dorm room for weeks on end. When do they have to be returned to the library? Use Library Books to find out! This free menu bar application connects to one of the supported libraries to identify the books you have checked out and tell you when they're due.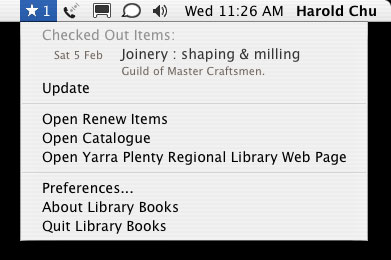 Not every library is supported, but you can email the author of Library Books and ask him to add support for your library. Pretty soon, there won't be any excuse to not return your books on time!
ProVoc
Free (Donations Requested) - http://www.arizona-software.ch/provoc/
Are you trying to learn a new language? You've got to get ProVoc, a free vocabulary trainer that makes learning a language easy. Just download the application and a vocabulary pack, and you'll be ready to learn!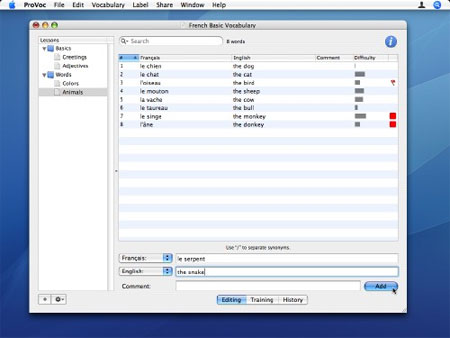 ProVoc allows you to export to iPod, so you can learn on the road. You can also print flash-cards, use the free Dashboard Widget, and listen to the audio pronunciation of words.
Google Docs and Spreadsheets
Free - http://docs.google.com/
Group projects happen. When you get hit with one, turn to Google Docs and Spreadsheets. This free service allows you to turn your web browser into a fully-fledged word processor and collaborate with your peers. You can save your work in just about any file format, and you can also publish it on web pages. We love how you can track revisions!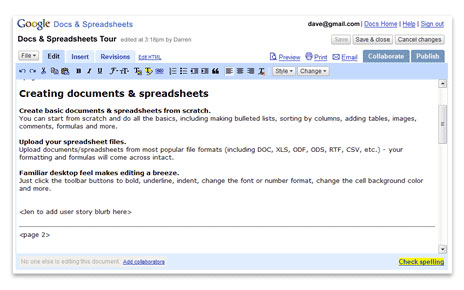 Facebook Exporter for iPhoto
Free - http://developers.facebook.com/iphoto/
School isn't all about work, right? You need to be able to have a little fun. Enter Facebook Exporter for iPhoto, a free application that makes uploading your photos to Facebook easy. You can upload just one photo, or all of them at once.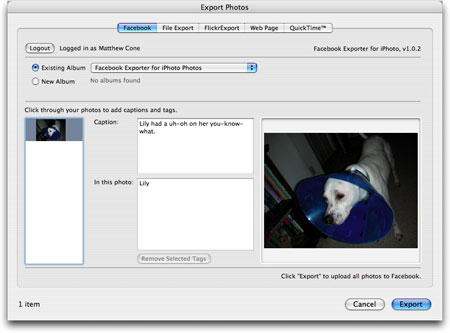 Just select Export from the File menu in iPhoto, and then select the Facebook tab. It's as easy as that! You can even tag people in the pictures right in iPhoto. How cool is that?
Mozy
Free (2GB) - http://mozy.com/
It's bound to happen: You'll be working on a paper at 4 AM (due at 8 AM, of course) and Microsoft Word will decide to conk out. Easy the pain of the "Oh s**t!!!" moments with Mozy, the free online Mac backup solution. Mozy does its work in the background automatically while your Mac is idle. And since every is stored securely on Mozy's remote servers, your stuff will be there even if something happens to your Mac.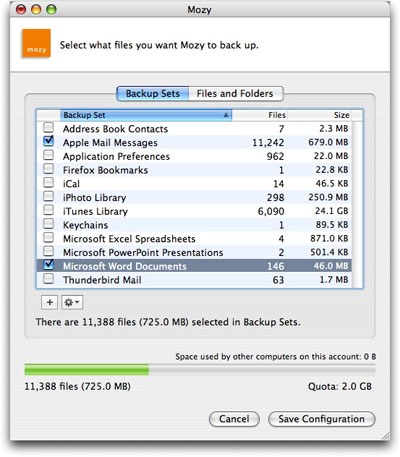 The free version of Mozy provides 2GB of storage space. You can upgrade to a lot more space than that for a small monthly fee.
WiFind
$8.00 - http://www.tastyapps.com/
If you're toting an Apple portable around college and Internet cafe environments, you're going to want to beef up your AirPort menu. WiFind shows you wireless network signal strength, encryption status, and more - all in the AirPort menu! Think of it as the missing menu for AirPort.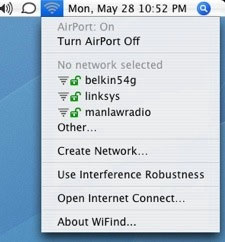 After a couple days with WiFind, you'll wonder how you ever lived without this bad boy. Give it a whirl!
Subscribe to our email newsletter
Sign up and get Macinstruct's tutorials delivered to your inbox. No spam, promise!