How to Connect AirPods to Your Mac
Matt Cone January 8, 2021 Tutorials Mac Music
---
Apple's AirPods headphones use Bluetooth technology to wirelessly connect to all Apple devices. You can connect AirPods to an iPhone, Apple Watch, iPad, and yes, even a Mac. In this tutorial, you'll learn how to connect your AirPods to a Mac.

Here's how to connect AirPods to a Mac for the first time:
From the Apple menu, select System Preferences.

Click Bluetooth. The window shown below appears.

Verify that Bluetooth is turned on.

Put your AirPods in the charging case and open the lid. Your AirPods will appear in the list of Bluetooth devices.

Double click AirPods in the list.
The AirPods will connect to your Mac.
Tip: You must have macOS 10.14 or later installed to use AirPods with your Mac.
Using the Bluetooth Menu to Connect AirPods to Your Mac
Once you've connected the AirPods using the Bluetooth settings in System Preferences, you can quickly connect AirPods to your Mac again in the future by using the Bluetooth menu in your Mac's menu bar. Put the AirPods in your ears, and then select the AirPods from the Bluetooth menu, as shown below.
After your AirPods are connected to your Mac, you can use the Bluetooth menu to check the battery level of your AirPods, as shown below.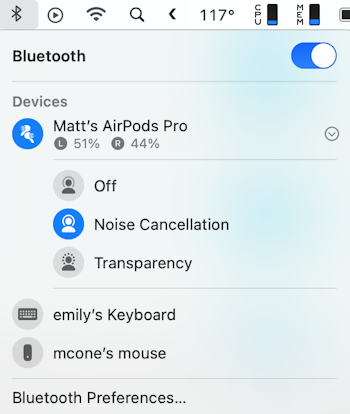 When you're ready to disconnect your AirPods from your Mac, simply put the AirPods back in their case and close the lid.
Related Articles
Subscribe to our email newsletter
Sign up and get Macinstruct's tutorials delivered to your inbox. No spam, promise!