Sherlock: The Forgotten Mac Application
Eric Buczynski March 29, 2007 Tutorials Mac Apps
---
It was a big hit in Mac OS 8 and 9, an interesting application in Mac OS 10.2 and 10.3, and now it's been all but forgotten. I'm talking about Sherlock, of course – Apple's file and web searching tool. Sure, you can search your Mac with Spotlight and get Internet information with Dashboard Widgets, but Sherlock can still come in handy. Look for it in your Mac's Applications folder.
I never was the first person on my block to get the latest operating system from Apple, but when I finally did get Mac OS 8.5 several years ago, I didn't find Sherlock to be a very useful program. I used it to index my hard drives, but not much else. It wasn't until I purchased a newer computer on eBay that I discovered a revamped version of Sherlock in Tiger. To my delight, Sherlock was an invaluable tool and a great time-saver. I'll show you some of the cooler features of this "forgotten" Mac application.
When you open Sherlock, you'll find a list of channels at the top. These are the various topics that Sherlock will retrieve info for:

Internet: Collects information for your search from multiple search engines.
Stocks: Allows you to check current stats and history of various stocks and markets.
Movies: Allows you to check movie information, availability, playing times and locations.
Flights: Provides information on arrivals and departures for commercial airlines.
Dictionary: Serves as a dictionary and thesaurus, but has a different source than the Apple program.
Translation: Can translate different words and sentences to different languages.
AppleCare: Typing in a keyword or two brings up info from the Apple Support website.
Finding Flicks Made Easy
I tend to use the Movies channel more than the others. Finding flicks just doesn't get any easier! You can type in your zip code and select a show time, then select either a list of movies or a list of theaters closest to you. Selecting the Movies tab gives you a list of all movies playing in your area. From there, you can select a theater and see the times that the selected movie is playing.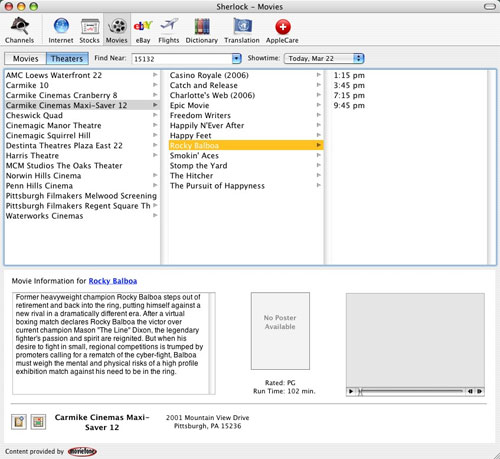 If you select the Theaters tab instead, you can choose a theater and see a list of which movies are playing there. The cool thing about Sherlock is that it downloads the movie poster and trailer for certain movies. It always downloads the movie information, even if a poster or movie trailer isn't provided. And, if that isn't enough, you can add the address of the selected movie theater to your address book and even get a map with driving directions to the theater!
eBay on Your Desktop
The eBay channel provides quick, easy access to eBay auctions. Using Sherlock with eBay isn't as efficient as going directly to eBay, though. Sherlock has grouped Computers with Electronics, and advanced searches don't return the same results as they would if one were to use eBay directly. Performing a search by typing (apple,mac,powermac) (parts,lot) resulted in auctions only advertising iPods. Even adding -ipod to the search didn't help. To my knowledge, the only benefits to using this are that you don't need a username and password to track items of interest and that selecting an item from the list brings up the auction details in the window. Hey, there's my auction…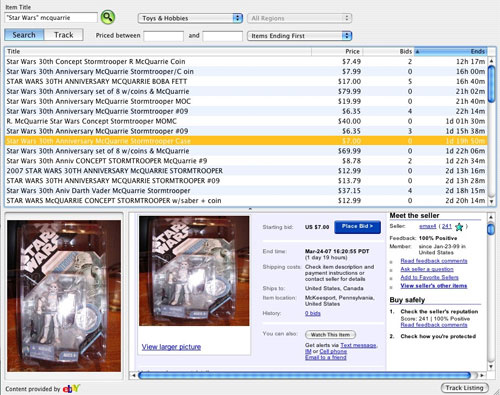 Track Flights with Detailed Arrival and Departure Info
The Flights channel is interesting. You simply choose the airline (with the most popular airlines being at the top of the list), then select the departure and arrival city. You can also enter a flight number. After gathering the data, Sherlock displays it in the middle screen. Selecting one of the flights shows more information on the bottom left-hand screen as well. What's handy is that the cities are arranged alphabetically by city and flight code. That's why New York shows up under the letter N instead of its airport code LGA. The Flights channel also has its own set of preferences that allow the user to select his or her location by continent.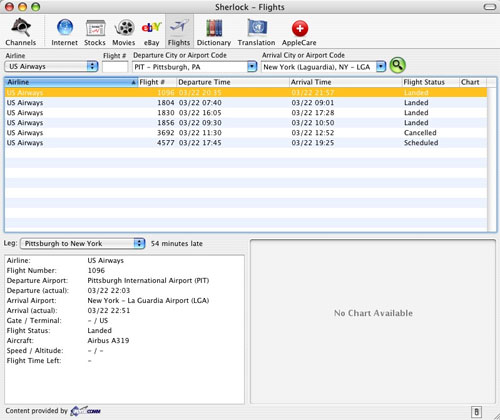 Access AppleCare
AppleCare is one of Sherlock's best channels. It's a quick fix for getting support from Apple's website! Simply type in a few words describing your problem and topics will pop up. Clicking on the topic will give you the page describing how to fix or troubleshoot the issue, and double-clicking the topic will give you the same information in a separate browser window on Apple's website.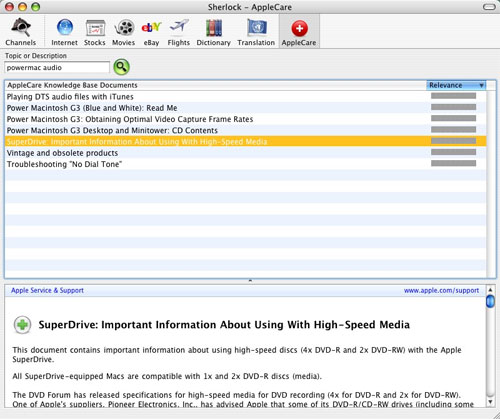 The Other Stuff
The Translation channel translates from English to other languages and vice versa. It can also translate words and sentences from a language other than English to another non-English language. If you've got a friend you're trying to impress who speaks another language, you can type a message to them in English then let Sherlock translate it to their native language. I don't read or write any language other than English, but I know that sentence structure is different for certain foreign languages. Because of this, a sentence such as, "While walking to the store, I saw a friend" might be spoken in French as, "I saw a friend while I was walking to the store" and Sherlock may or may not translate that properly. When a translation is completed, there is a disclaimer stating that the translation is handled by software, and that the user is warned not to rely on it when absolute accuracy is needed.
I don't use the Stocks or Dictionary channels very often since I don't bother checking out my stocks (it's been too depressing with the recent market fluctuations), and I rarrrley rearrly never need to use the dictionary. The Apple Dictionary program uses a different source than the Sherlock dictionary, but both do utilize a thesaurus whenever you search for a word.
The Internet channel is somewhat helpful if you want to double-check sources. I prefer to use Yahoo! as my main search engine while others prefer to use Google, but neither of these search engines are used in the Sherlock Internet channel.
Using Sherlock on a Daily Basis
If you'd like to have a channel or channels available to you quickly, you can select a channel and make a shortcut by pressing Command+L, or going to the Channels menu and selecting it from the list. This can be a very useful tool. You can drag the shortcut to the dock and have it readily available. Remember that files, folders, and web links go near the trash in the dock while application shortcuts are located on the other side of the trash.
If you'd like to see this information available when you start your Mac, doing so is easier than you may think. Simply create the channel shortcut and save it anywhere you'd like. Then go into System Preferences and Accounts. Click on the account that you use and then the "Login Items" tab. Click the plus sign to add an application, select the shortcut that you just saved, and then click on the checkbox next to the shortcut to activate it the next time your Mac boots up. After your Mac turns on, Sherlock will launch and go right to the channel that was just saved. You'll still have to enter the data or a few keystrokes to see any results, but this process still saves a few keystrokes. To deactivate this feature from the startup process, go back into System Preferences and Accounts, click on the Login Items and simply uncheck the Sherlock channel.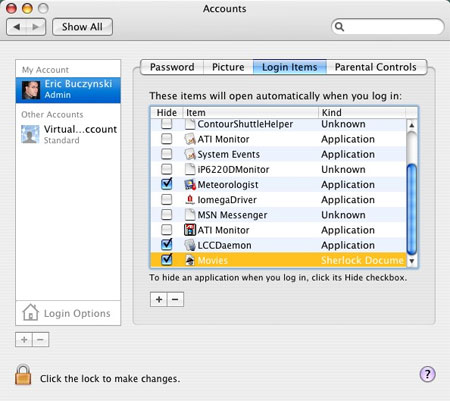 Subscribe to our email newsletter
Sign up and get Macinstruct's tutorials delivered to your inbox. No spam, promise!