Top Five Firefox Extensions
Matt Cone July 13, 2007 Tutorials Mac Apps Internet
---
This tutorial is out of date and no longer maintained.
Mac users are extremely fortunate to have several web browsers to choose from. There's Safari, Firefox, Camino, OmniWeb, SeaMonkey, Netscape, iCab, and many others. Safari is currently the winner when it comes to installed user base, and there's nothing wrong with that - it's a fine web browser! But you're doing yourself a disservice if you don't at least try another web browser like Camino or OmniWeb.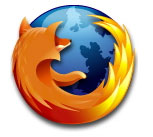 Firefox is one web browser we strongly recommend you install. It's free, and it's better than Safari in many respects. Firefox's plug-in architecture, for example, is simply amazing. Anyone can write a cross-platform extension that plugs into Firefox, and hundreds of people have done exactly that. The dozens of free Firefox extensions available provide a compelling reason to switch from other web browsers. It could take days to download and evaluate all of the Firefox extensions available. That's why we've assembled this list of our ten favorite Firefox extensions. Read about them here and then try 'em out on your own. It's free, and kinda fun.
How to Install Firefox Extensions
Mozilla, the non-profit organization working on Firefox, has done a great job of making extension installation a breeze. Here's how to do it:
Visit the Firefox Extensions website. Browse around for an extension you'd like to add.
Once you've found an extension worthy of your time, click the Install Now button.

Firefox will ask you if you're sure you want to install the extension. Click Install Now.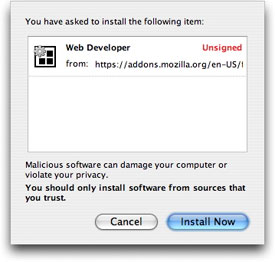 Firefox will automatically install the extension - you don't need to do anything else. After it's installed, you might have to restart Firefox to load the extension. To do that, click Restart Firefox.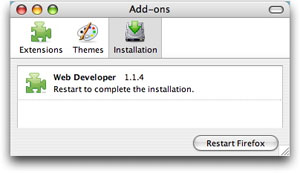 Growl Notifications
Free - https://addons.mozilla.org/en-US/firefox/addon/4634
Once you've started using Growl, the free notification system for Mac OS X, you'll wonder how you ever managed to live without it. You'll also start trying to integrate all of your applications with Growl! That's why Growl Notifications for Firefox and Thunderbird is so cool. This official extension from the Growl team finally links Firefox to Growl.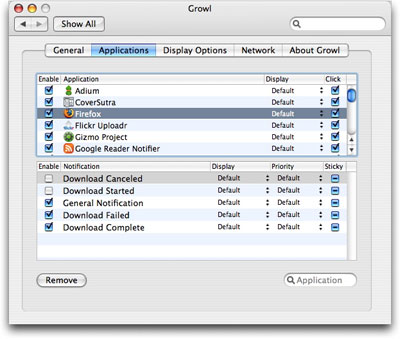 Growl will feed you notifications about Firefox downloads and provide general information as well. A must-have extension for Mac users.
Adblock Plus
Free - https://addons.mozilla.org/en-US/firefox/addon/1865
Sure, Firefox comes with a built-in pop-up blocker, but it doesn't always work and it doesn't block all of the other advertisements you'll run across these days. That's why we use Adblock Plus. It catches nearly all of the nasties and wipes them off our screen! And, unlike other ad-blocking software, it works really well without any additional configuration.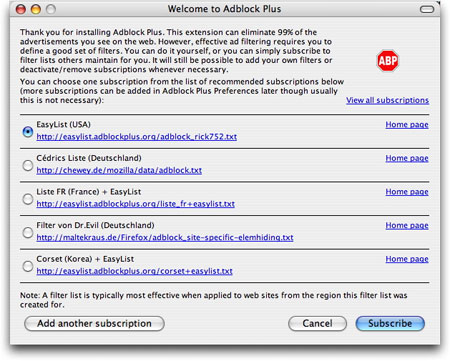 There are several ad-blocking extensions for Firefox, but the thoughtful features Adblock Plus builds into Firefox puts it head-and-shoulders above the rest. Give it a try - you won't be disappointed!
Fasterfox
Free - https://addons.mozilla.org/en-US/firefox/addon/1269
Firefox isn't the fastest Mac web browser, but Fasterfox can help speed it up. This performance extension "allows you to tweak many network and rendering settings such as simultaneous connections, pipelining, cache, DNS cache, and initial paint delay." Truth be told, it works pretty well straight out of the box.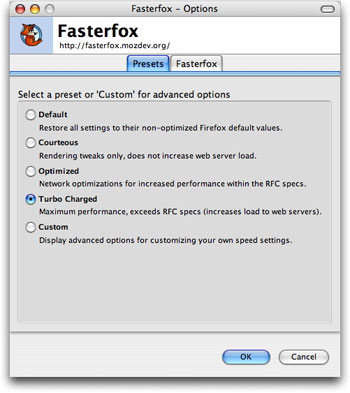 What does it do? When your Mac is idle, Fasterfox pre-fetches web pages you might visit before you even visit them. Then, when you click a link, the web page loads super fast. It's apparently the bane of webmasters' existences, but a boon for everyone else.
Gspace
Free - https://addons.mozilla.org/en-US/firefox/addon/1593
Do you have a Gmail account? Are you using all of your 2.8 GB Gmail file space? If not, you should look into Gspace. This amazing extension allows you to use your Gmail account as an online drive. Upload files from your hard drive and store them on Google's servers!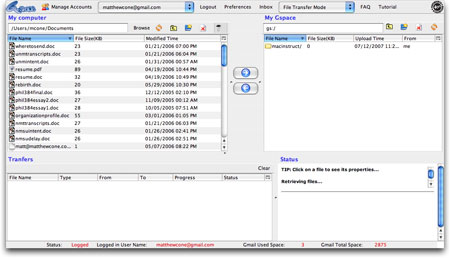 Obviously, this extension is not sponsored or sanctioned by Google, so use it at your own risk. The people who created Gspace suggest that you create a new Gmail account just for this purpose, and we second that idea. Nobody wants to have their email messaged erased just because they uploaded a file or two.
Web Developer
Free - https://addons.mozilla.org/en-US/firefox/addon/60
A must-have for anyone into website design and development. Once you start using Web Developer, you'll never go back. It just integrates so well with Firefox! You can view CSS and HTML information on the fly, and you can even edit the local version of website to see what small changes would look like.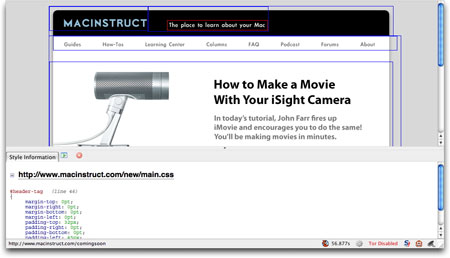 We're not really fond of the huge toolbar Web Developer adds to the top of the Firefox window, but hey, you can't have everything, right?
Subscribe to our email newsletter
Sign up and get Macinstruct's tutorials delivered to your inbox. No spam, promise!