Use Your iPod as a Portable Hard Drive
Matt Cone July 26, 2007 Tutorials Mac Hardware
---
If you own a Mac (or any computer for that matter), chances are you'll eventually have to transfer files to another computer. And you'll probably want to back up your irreplaceable files and data, too. For these relatively trivial tasks, we recommend that you use your iPod. After all, your music, movies, and pictures probably take up less than half of your iPod's hard drive space. You can use some of the free space as a storage device! It's easy to set up and use.
Here's how to do it:
Connect your iPod to your Mac.

Open iTunes if it isn't already running. Select your iPod in the left-hand sidebar.

From the Summary tab, select Enable Disk Usage.

Now, in the Finder, you'll see your iPod mounted as a hard drive.

Copy whatever you want onto your iPod: File, folders, applications. Your iPod will take them all.
What Is It Good For?
Using your iPod as a storage device allows to you transfer stuff to other Macs and PCs. You can back up your data, move files and folders, and even transfer music copied onto the hard drive.
Don't let the storage device feature confuse you: You can't use your iPod to access data you copy onto your iPod. The files are on there, but you wouldn't know it by using your iPod. Even if you copy music onto your iPod through the Finder, you won't be able to access it through the iPod's interface.
You can also use your iPod as a start up disk. TechTool Protogo ($135) allows you to install multiple versions of Mac OS X quickly and easy.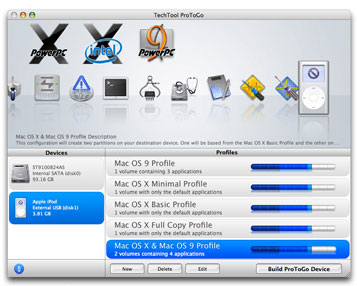 We strongly recommend that you do not use your iPod as a start up disk. Your iPod's hard drive is different from regular hard drives - it is not designed to operate as a start up disk. Using it as such could damage or even destroy your iPod. If you do decide to use your iPod as a start up disk, try to limit its use to 45 minutes or less.
Subscribe to our email newsletter
Sign up and get Macinstruct's tutorials delivered to your inbox. No spam, promise!