Free Flickr Apps For Your Mac
Matt Cone June 8, 2007 Tutorials Mac Photos
---
If you have a Mac and a digital camera, you probably know a thing or two about managing digital photos. Of course, iPhoto is a wonderful application that does a great job of managing photos on your Mac. But when it comes to sharing your photos with friends and family members, iPhoto comes up short, especially if you decided to forgo the expensive .Mac subscription.
What application or website should you use to share your photos? There are literally dozens of websites that can collect your photos, but we're going to recommend Flickr, a free online service that lets you upload and share photos. It may not be the best photo-sharing option out there, but it's certainly the easiest. Thanks to Flickr's killer API (Application Programming Interface), developers can incorporate Flickr into their own applications and websites.
You can, of course, upload photos through Flickr's website. But there are quite a few Mac applications out there that can help you manage your Flickr photos. Here are some of the best.
JetPhoto
Free - http://www.jetphotosoft.com/web/home/
We'll be honest with you: We delete most of the applications we try out. Some aren't useful, some are cumbersome, and some are just plain ugly. JetPhoto is definitely a keeper! In fact, every Mac user with a digital camera should have this application. It allows you to upload pictures to Flickr, but that only scrapes JetPhoto's surface.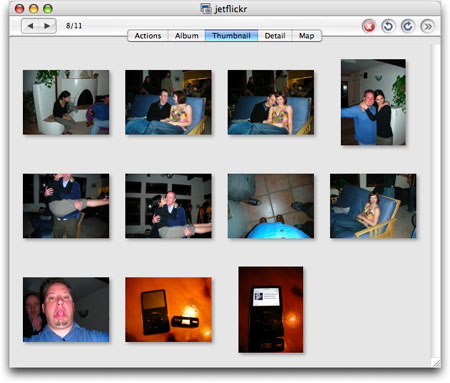 Check out these other cool features:
Seamless iPhoto and Camera importing.
Create Flash Movies.
Make cool Lightbox web galleries.
Make cell phone wallpaper.
Generate web albums.
Geo-tag your photo with built-in Google Maps
And more!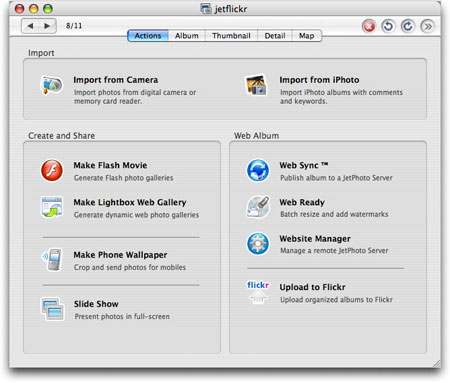 To upload your photos, simply import them from iPhoto into JetPhoto, and then select Upload to Flickr from the Web Album menu. You can resize your photos before you upload them and even see how close you are to reaching your Flickr upload limit. If you take advantage of JetPhoto's advanced features, you'll want to upgrade to JetPhoto Pro ($25).
FlickrExport
Free to try, then about $25 - http://connectedflow.com/flickrexport/
If you'd prefer to upload photos to Flickr directly from iPhoto, we have just the solution for you. FlickrExport is a nifty iPhoto plugin that integrates so well, you'll think it was just a part of iPhoto!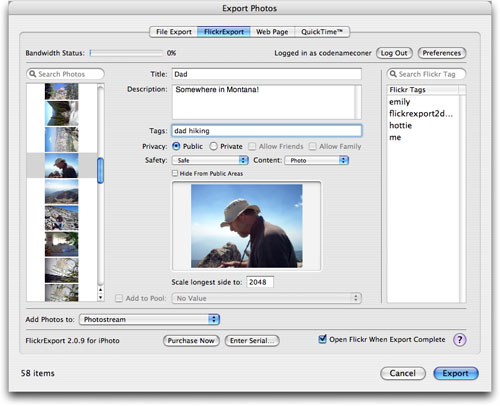 FlickrExport does allow you to title and tag photos directly in iPhoto, but there aren't many other advanced features. (Stuff like geo-tagging is noticeably absent.) Of course, FlickrExport's Growl integration is pretty nifty. And there's also a FlickrExport plugin for Aperture, which is way cool. Unfortunately, the annoying authentication bugs and the $25 price tag really drag down this otherwise stellar iPhoto plugin.
Flickr Uploadr
Free - http://www.flickr.com/tools
You're using their website. Why not use their application? Flickr Uploadr was made by the people at Flickr, and they got this thing right. It's a simple, easy-to-use application that does one thing well. You can drag and drop pictures into Uploadr from the Finder or iPhoto, tag them, and then upload the whole bunch. We only wish it was a little more integrated with iPhoto.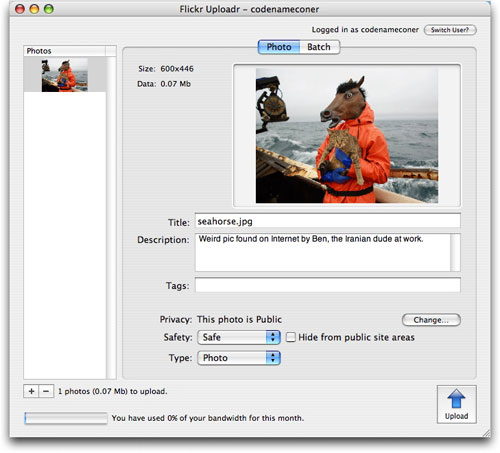 Another problem with Flickr Uploadr is that it has not yet been released as a Universal binary. People with Intel Macs are going to watch this application crawl. But hey, at least it integrates with Growl, right?
1001
Free - http://kula.jp/software/1001/
More of a Flickr browser than an uploading application, 1001 allows you to keep track of your friend's photos. Watch uploads in real-time with a cool pop-up window that displays new photos! You can configure 1001 to watch everyone on Flickr, or just certain users. It's up to you.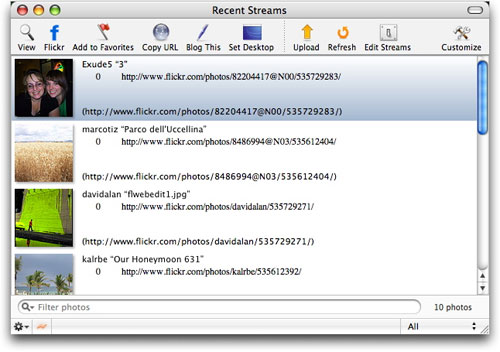 You can also upload photos with 1001. There aren't any fancy uploading features, but if the Flickr browsing features are enough to convince you to stick with this application (and they should be), the upload option is right there waiting for you!
jUploadr
Free - http://juploadr.org/
Uploading photos to Flickr doesn't get any easier than jUploadr. This idiot-proof application is so simple, you can't help but fall in love with it. Just open the application, enter your Flickr account information, and start dragging and dropping photos into the jUploadr window.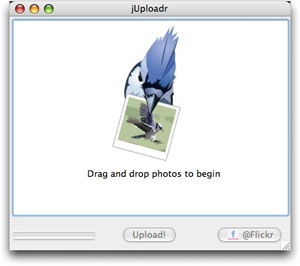 If you're looking for a bare-bones application that will upload your photos to Flickr, look no further. jUploadr is your application!
Flickr Finder
Free - http://gragsie.com/FlickrFinder/
Want to navigate Flickr in a window that looks a lot like a Finder window? Flickr Finder might be for you! This free Universal application does a great job of bringing Flickr to a very Mac-like interface. Just add your friends to Flickr Finder and you'll be off to the races. In fact, you may never have to look at the Flickr website again.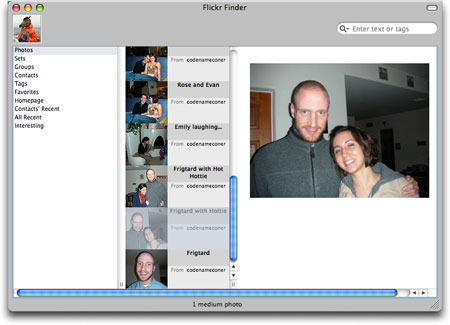 While Flickr Finder doesn't allow you to upload photos, you'll probably discover that it's a useful application to have around all the same. Spend a little time configuring it, and you'll be rewarded with a very Mac-like and efficient way of accessing Flickr.
PictureSync
Free ($15 for full version) - http://picturesync.net/
We totally fell in love with this application. Everything about PictureSync just feels right - the friendly interface, the iPhoto and Aperture import options, and the awesome full screen editing mode. If you use Flickr, you've got to have PictureSync.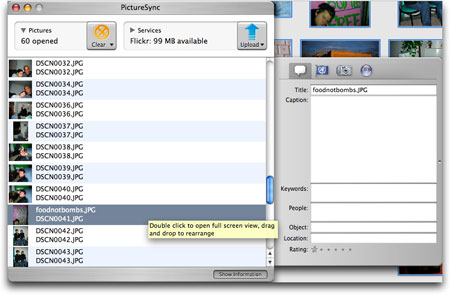 The best part is that PictureSync works with nearly every web-based photo service. It really is a one-stop shop for online photo collecting, and it's worth shelling out $15 for.
Gleam
Free - http://www.coalmarch.com/products/gleam-flickr-desktop-application.php
The interface of this photo collection and Flickr upload application is gorgeous. But it's a real resource hog. In fact, Gleam slowed our Mac down so much that we could hardly stand it. But maybe it was just us experiencing the slow-down. It's such a pretty application that we hate to not recommend it just based on speed (or lack thereof).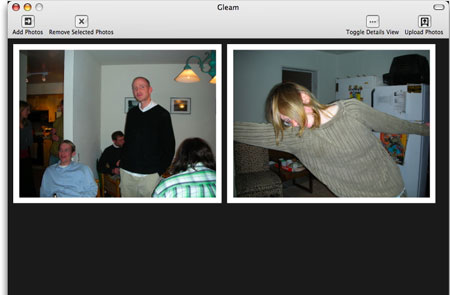 Give Gleam a try - it just might be the Mac Flickr application you're looking for.
Subscribe to our email newsletter
Sign up and get Macinstruct's tutorials delivered to your inbox. No spam, promise!