How to Add the Bluetooth Menu to Your Mac's Menu Bar
Matt Cone April 19, 2021 Tutorials Mac
---
Your Mac has the ability to connect to Bluetooth devices, but it can be a pain to connect those devices. For quick and easy access to the Bluetooth settings, you can enable the Bluetooth menu in your Mac's menu bar. The Bluetooth menu allows you to connect and disconnect Bluetooth devices with one click.
Here's how to add the Bluetooth menu to your Mac's menu bar:
From the Apple menu, select System Preferences.

Click Bluetooth.

Select the Show Bluetooth in menu bar checkbox.
The Bluetooth menu now appears in your Mac's menu bar, as shown below.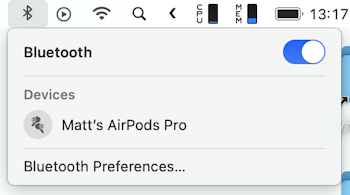 Subscribe to our email newsletter
Sign up and get Macinstruct's tutorials delivered to your inbox. No spam, promise!