How to Check Your Apple Bluetooth Keyboard's Battery Life
Matt Cone January 7, 2021 Tutorials Mac Hardware
---
The Apple Bluetooth keyboard is one of those rare, indispensable devices I couldn't live without. It's wireless, it's portable, and I love typing on it. There's only one problem: When the keyboard's batteries run out of juice, it stops working. This can be an issue when I'm working away from home or trying to meet a tight deadline.
Fortunately, there's a quick way to check the keyboard's remaining battery life. Here's how to do it:
From the Apple menu, select System Preferences.

Click Keyboard. The window shown below appears.

Check the Keyboard Battery Level in the lower-left corner. This is the percentage of battery life left in your Apple Bluetooth keyboard's batteries.
You can also check the Apple keyboard battery level from the Bluetooth menu in the menu bar, as shown below.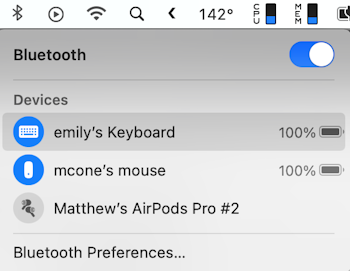 Those methods work well, as long as you remember to check System Preferences or the Bluetooth menu. For those of us who are more forgetful, macOS displays helpful notifications when the batteries have 10% or less battery life remaining.
Related Articles
Subscribe to our email newsletter
Sign up and get Macinstruct's tutorials delivered to your inbox. No spam, promise!