How to Use Apple Pay in Safari for Mac
Matt Cone February 18, 2022 Tutorials Mac Internet
---
Apple Pay has revolutionized how people pay for physical and digital goods. With a couple taps of your finger, you can effortlessly pay for virtually anything. Most people associate Apple Pay with their iPhone or Apple Watch, but you can also use Apple Pay on your Mac if you use the Safari web browser. Many websites, like Etsy, support Apple Pay as a checkout method — in many cases you don't even have to sign in to the website to make a purchase.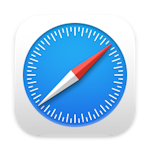 Here's how to enable and use Apple Pay in Safari for Mac:
Make sure you've set up Apple Pay on your Mac.

Open the Safari application.

From the Safari menu, select Preferences.

Click the Privacy icon, as shown below.

Select the Allow websites to check for Apple Pay and Apple Card checkbox.

Close the preferences window.
That's it! You've successfully set up Apple Pay in Safari for Mac. Now when you use Safari on your Mac to visit a website that supports Apple Pay, you can use Apple Pay to check out and pay for the product or service.
Related Articles
Subscribe to our email newsletter
Sign up and get Macinstruct's tutorials delivered to your inbox. No spam, promise!