Twenty Must-Have Mac Apps
Matt Cone May 25, 2007 Tutorials Mac Apps
---
Every Mac you can buy these days comes pre-installed with powerful and practical applications. You get the amazing iLife suite as well as other applications like Safari and Mail.app. In fact, Macs include so much software that you could probably do practically everything you need to do without ever downloading or purchasing another application.
But if you did that, you'd be missing out on dozens of freeware and shareware applications that can help you do much more with your Mac. There's another world out there, and it's just a download away.
In this article, we'll share our software favorites. We've scoured the Internet for the most useful, user-friendly, and inexpensive Mac applications available. These are the must-have applications that no Mac user should be without!
Adium
Free - http://www.adiumx.com/
We're huge fans of Apple's iChat, but it only works with AOL Instant Messenger and .Mac accounts. If you or your friends have Yahoo! Instant Messenger or MSN Messenger accounts, you're out of luck. Enter Adium, a free instant messaging application that connects to just about every messaging service out there.

Adium is easy to install and configure, and with a very active "xtras" website, there literally hundreds of ways you can customize it.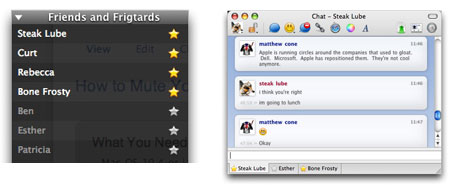 There's no question about it: This application will help you stay in touch with friends and family in a way that iChat just can't. The biggest bummer? Adium doesn't support audio or voice chat, so you'll have to call on iChat or Skype for that stuff.
TextWrangler
Free - http://www.barebones.com/products/textwrangler/
We said it before, and we'll say it again: TextWrangler is the best Mac text editor out there. You just never know when you're going to need this application to take notes, edit Mac OS X system files, or perform a search and replace on a large chunk of text.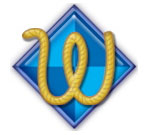 TextWrangler can be used for web-editing and programming, but you'll quickly outgrow it if you're using it for those purposes. More advanced applications like BBEdit and Textmate provide powerful features that TextWrangler lacks. Unfortunately, both of those applications are expensive and too sophisticated for the average Mac user.
VLC
Free - http://www.videolan.org
VLC is a free, cross-platform media player that supports nearly every video and audio format you can imagine. You can use VLC to watch DVDs and DIVX CDs, play hard-to-watch Windows Media Player files, and even stream media onto the Internet! And, since the player resembles applications like iTunes and QuickTime, you'll feel right at home.

CoverSutra
About $20 - http://www.coversutra.com/
iTunes plays your music, but if you're like us, you don't keep the iTunes window maximized all the time. It's a real shame, because all of our album cover art is stashed away in there, hidden from view. No longer! CoverSutra displays your album artwork on your desktop and lets you change songs without messing with iTunes.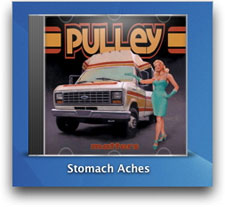 Click on the album cover to control iTunes with CoverSutra's cool transparent window.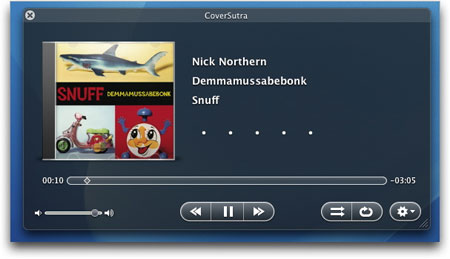 Plus, if you listen to the free Last.fm Internet radio service, CoverSutra will automatically log every song you play in iTunes.
HandBrake
Free - http://handbrake.m0k.org/
iTunes lets you rip CDs you've already purchased, but what about the DVDs you own? How are you supposed to get those movies onto your Mac? You'll use HandBrake, a free application that allows you to copy DVDs to your Mac.

HandBrake lets you tweak virtually every aspect of the importing process, ensuring that you'll get the right file size for your Mac or iPod. Start storing movies on your Mac today!
Aurora
Free - http://metaquark.de/aurora/
Aurora turns your Mac into an alarm clock, but it also does much more than that. This free application will turn your Mac on in the morning and start playing an iTunes playlist or any TV or radio channel from EyeTV.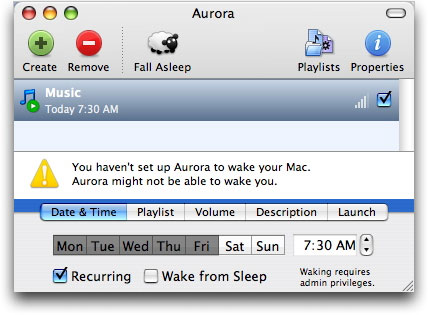 At night, before getting into bed, you can set Aurora to play songs for a certain period of time before putting your Mac to sleep. This application takes Mac automation to a whole new level.
RapidWeaver
$49 - http://www.realmacsoftware.com/
Sure, there are plenty of applications that can help you build a website. There's Apple's iWeb for newbies, but it's too inflexible to be really useful. Then there is Panic's Coda for those who know how to code in HTML. What's everybody else supposed to use?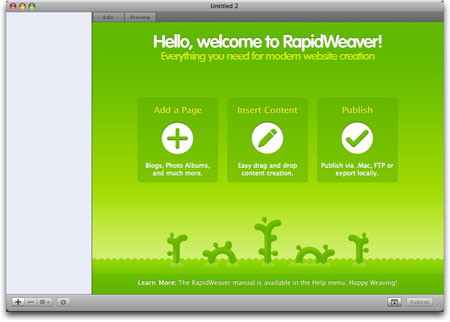 Take a look at RapidWeaver, a cheap and powerful website creation application. It's easy to get it working with .Mac or another hosting-provider. With plenty of hip pre-made themes and templates to choose from, you'll have a website online in no time!
Vienna
Free - http://vienna-rss.sourceforge.net/vienna2.php
The RSS revolution is upon us, and you should start downloading feeds to your Mac. But which application should you use? We'll recommend Vienna, a free RSS reader for Macs that blows away the expensive competition.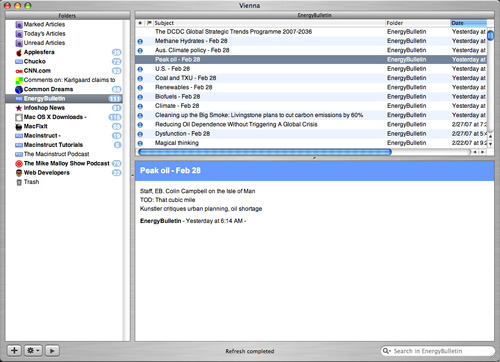 Vienna lets you access RSS feeds and load web pages directly into its built-in web browser.
Twitterrific
Free - http://iconfactory.com/software/twitterrific
Do you know about Twitter? It is, admittedly, a completely irrelevant way to send text messages over the Internet. It sounds stupid, but you'd be surprised at how addictive it can be. Twitterrific is a free application from the Iconfactory that brings Twitter right to your Mac's desktop.

This little application looks sexy and does a great job of getting you hooked on Twitter! Twitterrific makes it so easy to send and receive messages that you'll be addicted in no time flat.
Delicious Library
$40 - http://www.delicious-monster.com/
You collect books, movies, music, and video games. Now it's time to use your Mac to catalog, browse, and share them. Delicious Library helps you do just that. It's easy to enter items into Delicious Library! Using your iSight camera, you can scan the barcode of the item you want to classify. Delicious Library will search for the item and automatically add its information to your library.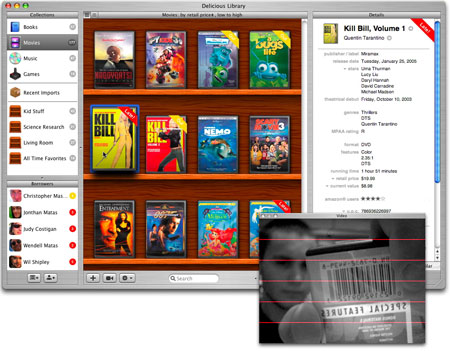 This has to be one of the most incredible and useful Mac applications of all time.
xPad
Free - http://getxpad.com/
The Mac note-taking and organization application market is very, very crowded. There are many fine applications to choose from, including Yojimbo, Mori, and Journler. To be honest, all of those applications probably appeal more to power-users in niche markets.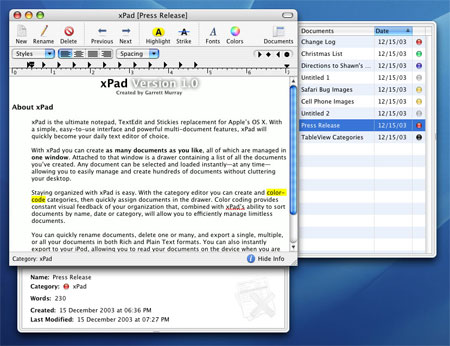 Unsurprisingly, the application that stands out in this market is the simplest of them all. xPad is a free notepad that allows you to take notes, make lists, and jot down ideas. You can even export your notes to your iPod! There really is something to be said for doing one thing, and doing it well. Good job, xPad!
Transmission
Free - http://transmission.m0k.org/
Say you need to download a file - any file - from an Internet source. What application are you going to use? Transmission would probably be your best bet. This free BitTorrent client lets you download files quickly and easily without the hassle or the wait.

You will, of course, still need to find the files to download. Use something like The Pirate Bay, and don't tell anybody we sent you.
AppDelete
Free - http://reggie.ashworth.googlepages.com/appdelete
One of the problems with Mac OS X is that it doesn't really remove all parts of an application when you delete it. There's usually a bunch of junk left behind - stuff like preferences and associated documents, which will all continue to take up space on your hard drive, even though they won't be used in the future. AppDelete is a free application that will seek and destroy everything associated with the application you're deleting.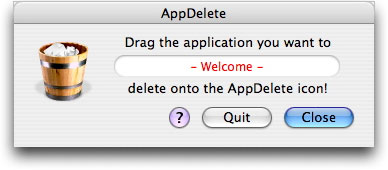 Cha-Ching
$40 - http://www.midnightapps.com/
Financial gear-heads have Quicken and QuickBooks. For all the rest of us, there's Cha-Ching. It's a simple, up-and-coming money manager that can track your finances, notify you about bills, and help you craft budgets.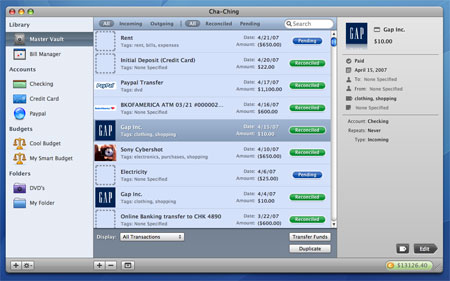 We know it's expensive. If you can't rock the $40 price tag, take a look at Buddi, a free budget application that isn't quite as strong as Cha-Ching.
WriteRoom
$25 - http://www.hogbaysoftware.com/product/writeroom
Someday, when you're writing and need to escape your Mac's distractions, you'll need to use WriteRoom. This simple application blacks out everything on your screen except text, so you can focus on writing. Think of it! No iChat alerts. No email notifications. No RSS feed updates. Just you and your prose.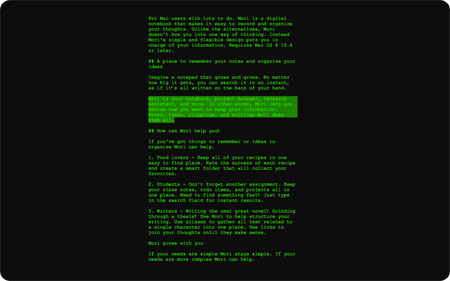 If you're not a writer, or if you want to concentrate on something other than text, check out Freeverse's Think. It's a free download, and a great application!
Quicksilver
Free - http://quicksilver.blacktree.com/
This free launcher application appeals to power users and newbies alike. With a couple of keystrokes, you can launch applications, open and move files, control iTunes, and perform just about any other application-specific task without ever touching your mouse.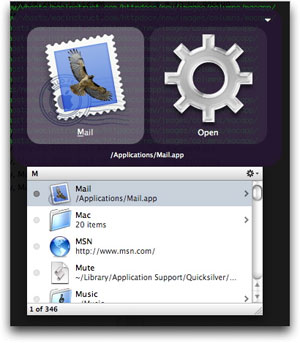 All this power comes at a price, however: You'll need to practice to make Quicksilver part of your routine. It's kind of like learning a new language. It's difficult at first, but if you can get over the Quicksilver hump, you'll be able to perform tasks a lot faster!
Graphic Converter
$30 - http://www.lemkesoft.com/
Whether you're creating simple graphics for your blog or editing clipart, you're going to need a graphics application. You could, of course, buy Adobe Photoshop. It's only $650. For those of us who don't want to sell our cars just to buy an application, there's Graphic Converter.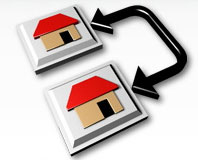 It has a lot of the same features as Photoshop, and it costs a lot less. Plus, the unregistered shareware version has nearly all of the same functionality as the registered version.
NeoOffice
Free - http://www.neooffice.org/
A word processor is something new Macs don't ship with. Apple's Pages and Microsoft Word don't come cheap, either. Fortunately, there is a free alternative. NeoOffice is a port of OpenOffice to the Mac. We'll be honest with you: NeoOffice is a little slow and buggy for our tastes. But hey, it's better than nothing, right?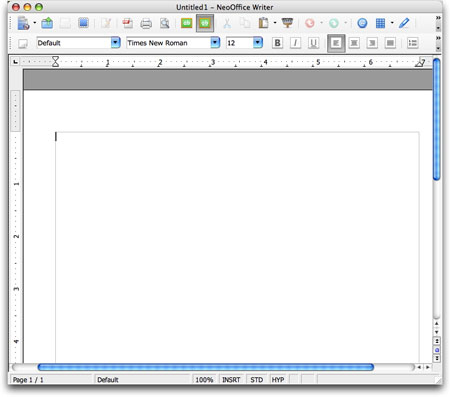 Xtorrent
$20 - http://www.xtorrentp2p.com/
Xtorrent's website claims it can "get anything," and we believe it. This peer-to-peer application scours the web for music, movies, applications, and other things you probably shouldn't be downloading. Xtorrent just makes it so easy to find and download stuff.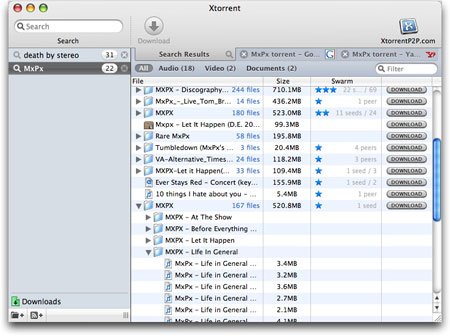 Any old application can download stuff, but Xtorrent really shines when it comes to iTunes integration, ease of use, and speed.
Comic Life
$25 - http://plasq.com/comiclife
Life without comics would be an intolerable insult. That's why Comic Life is such a great application - now anybody with a Mac can create their own comic strip! It's as easy as inserting a picture and adding some text.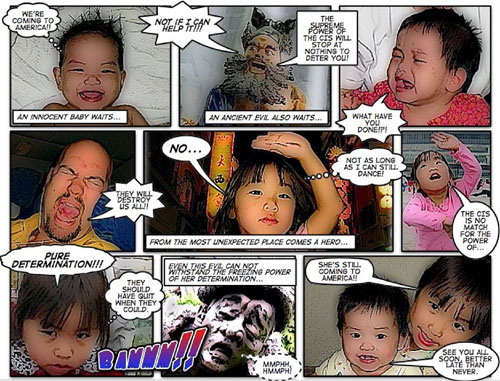 Subscribe to our email newsletter
Sign up and get Macinstruct's tutorials delivered to your inbox. No spam, promise!