Block Internet Ads with Safari AdBlock
Matt Cone December 13, 2007 Tutorials Mac Internet
---
It seems we here at Macinstruct discuss blocking pesky Internet ads at least every couple months. There's a good reason for our ad-blocking articles: Advertising is more distracting and pervasive than ever before. Flashing banners and animated graphics can prevent you from focusing on what's really important – the content.
Fortunately, there are ways to block the nasties. Several months ago, we talked about how to use Privoxy to block ads. Then we discussed PithHelmet for Safari and Adblock Plus for Firefox. But now there's a new ad-blocking kid on the block, and this option looks better than all of the other solutions. Safari AdBlock is a free plug-in Safari users.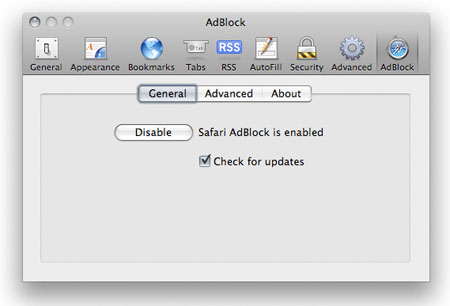 The nice thing about Safari AdBlock is that there's nothing to configure. You just download the installer, install the plug-in, and then restart Safari. The webpages you visit will automatically be cleansed of flashy banners. Not of the all textual ads disappear, however, which fine by us. (Some of the Google AdSense text ads are actually useful.)

What a different an ad-blocker makes! A Mac website before (left) and after (right) with Safari AdBlock enabled.
Notice the two main banners – one on the top and the other on the sidebar – disappear. So what are you waiting for? If you're a Safari user, go download Safari AdBlock for free! Install it today and start surfing the web without advertising.
Subscribe to our email newsletter
Sign up and get Macinstruct's tutorials delivered to your inbox. No spam, promise!