Must-Have Google Mac Apps
Matt Cone June 22, 2007 Tutorials Mac Apps Internet
---
There's a lot of information on the Internet these days. In fact, according to one report, there are now over 11.5 billion web pages. It's anybody's guess how we're supposed to find the stuff we're looking for - it's like finding a needle in a haystack! Fortunately, there are some excellent tools at our disposal, like Google, the company that links us to information.
You could, of course, simply use Google's website to search, manage your Gmail account, and add events to your Google calendar. But that's so old-school. All the cool kids are searching Google from their desktop and managing their Gmail from a widget - without even opening a web browser!
What follows is a list of our favorite Google applications for Macs. This list is by no means exhaustive - we're just sharing the cream of the crop!
Bay - Google Reader Notifier
Free - http://troelsbay.eu/software/reader
Still visiting all of your favorite websites on a daily basis? It's time to look into RSS and get news items delivered automatically! If you use Google Reader to manage your RSS feeds, you should check out Bay, a free app that lets you access your unread Google Reader articles from your Mac's menu bar.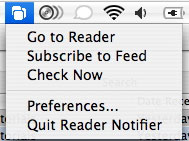 It's simple, effective, and free (donations are requested, however). If you're addicted to RSS and you use Google Reader, this is a must-have application!
Google Notifier
Free - http://toolbar.google.com/gmail-helper/notifier_mac.html
Gmail and Google Calendar are great, but they're even better in your Mac's menu bar. Thanks to Google and its Google Notifier application for Macs, you can check your email and events without ever opening a web browser! (Of course, to actually do anything, like read your email or change events, you'll still have to visit Google's website.)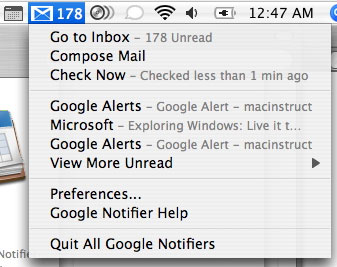 If you have a Gmail account, you'll quickly wonder how you ever lived without Google Notifier. This is one application that stays on our menu bars. In the unlikely event that you don't like Google Notifier, be sure to give GmailStatus (free) a try.
Google Dashboard Widgets
Free - http://www.google.com/macwidgets/
Google has three beautiful Dashboard widgets for your downloading pleasure. These bad boys allow you to check your Gmail account, post to your Blogger blog, and sift through your search history.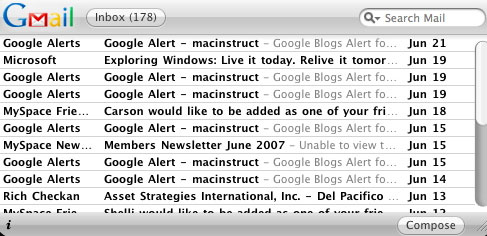 These widgets don't provide a whole lot of functionality, but the recently updated Blogger widget really is the cool! And it is nice to be able to search and sort through the email messages in your Gmail account.
Google Desktop
Free - http://desktop.google.com/mac/
This new application allows you to search for stuff on your Mac and the web, but it isn't nearly as revolutionary as some of the hype might lead you to believe. (Be honest here: Do we really need another application to help us search our Macs?) While Google Desktop is neither necessary or all bad (and it's also no replacement for Spotlight), we'll keep it around, if only to search the web from our Desktops.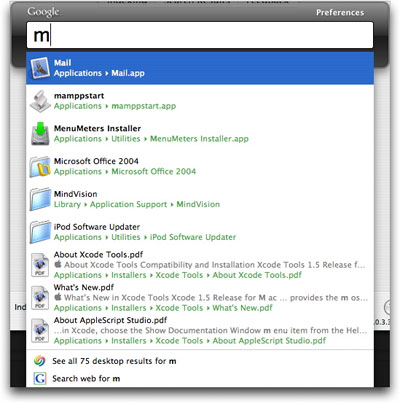 ry it out and see what you think. It's not entirely to our liking, but it may be to yours. One thing's for certain: Google Desktop certainly looks like a Mac application. They got the look and feel right!
Google Earth
Free - http://earth.google.com/
Everyone should have this free application full of 3D maps and satellite imagery. It's like Google Maps on steroids! You can get directions, see your house, and help tag geographical landmarks.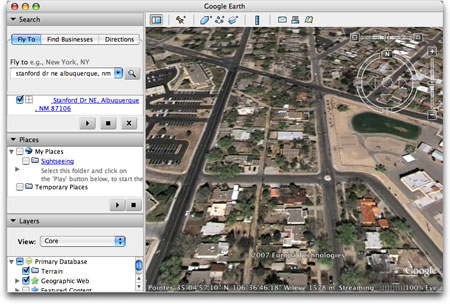 This application is pretty resource intensive, so don't leave it running all the time. (Unless you have one of those new Mac Pros. In that case, just disregard everything we said about it being resource intensive.)
Spanning Sync
$65 - http://www.spanningsync.com/
If you use both iCal and Google Calendar, you'll be happy to know that there's now a way to synchronize the two. Spanning Sync is a transparent application that plugs into Mac OS X's system preferences and uploads and downloads calendar changes while you work. It's bidirectional, so changes you make in iCal will be reflected in Google Calendar, and vice versa.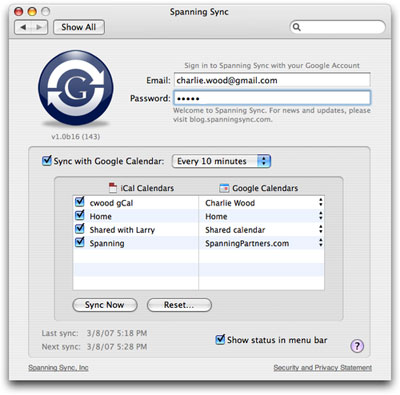 It's hard to rock Spanning Sync's $65 fee for lifetime support (or $25 per year). Another option is gSync, a less polished application that is still in Beta testing. Get it while it's free!
SketchUp
Free - http://sketchup.google.com/ Well, this is a weird one. Google acquired a 3D sketching program in 2006, and they've released a free version of this application for Mac OS X. While it's typically used by landscape designers and architects, you can use it for other things, like creating desktop images. If you take time to learn how it works, it'll provide hours of fun!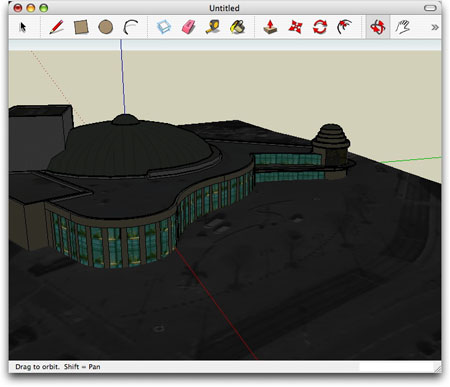 SketchUp might not be a must-have application, but it's cool nonetheless. Plus, it integrates very nicely with Google Earth!
Better Gmail - Firefox Extension
Free - http://lifehacker.com/software/gmail/lifehacker-code-better-gmail-firefox-extension-251923.php
If you have a Gmail account and you use Firefox, Better Gmail might be for you. This free plugin adds loads of functionality to Gmail, including the ability to "skin" the Gmail website in a very .Mac-like way.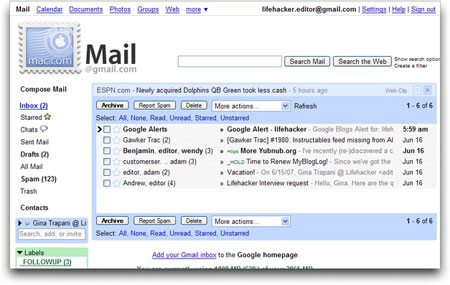 Is installing this plugin worth the inevitable Firefox slowdown? You be the judge.
Subscribe to our email newsletter
Sign up and get Macinstruct's tutorials delivered to your inbox. No spam, promise!