SoCal II
Jerome Shea June 23, 2007 Weekend Wonk
---
Slept well? Hope so. Let's go.
About 4 miles south of Kingman we will leave I-40 and head into the mountains on old 66, cresting Sitgreaves Pass at 3652 feet and dropping down into the old mining town of Oatman, AZ. This was surely the most formidable part of the old road. I recall a photograph from the 1920s with people BACKING up the long hills. Why, I'm not sure (primitive oil pressure systems?), but it must have seemed a good idea at the time. The road is only about 13 feet wide, twisty as an arthritic snake, crumbling at the shoulders, and without guardrails of any kind. I told you it was hair-raising. Oh, and let's add in the morning sun directly in your eyes, blinding you. Wonderful! This is what driving is all about! Oatman itself is famed nowadays for its Old West look (faux saloons and bawdy houses, wooden sidewalks) and its burros, many half feral. If you want burros underfoot, you've come to the right place.
We'll rejoin I-40 just south of Golden Shores, but we are done with 66/40. I doubt there are many traces of old 66 from here to Santa Monica, some urban parts excepted, and, anyway, we are heading to South Laguna, not L.A. Nor do I relish getting vortexed into the black hole of greater L.A. for any reason. So we backtrack on I-40 to AZ 93 south, through Lake Havasu City (yes, with the genuine London Bridge, re-erected in the most improbable place imaginable) and on to Parker. LHC and Parker are not particularly attractive, but we are tracing the Colorado River, which often is. When I first saw Parker Dam, on a soft September evening, I knew I wanted to come through this way again.
We fortify ourselves in Parker and then finally cross over into California, following the railroad across the Mojave Desert on CA 62, then CA 177 down into Desert Center. The Mojave, home of the Joshua tree, is flat and huge. Mountains ranges spring up around us, impossibly far off. Every couple of miles the road dips in a shallow arroyo. Patton trained his troops here.
We will make a reverential stop at Callanan's gas station in Rice, CA, which cleverly disguises itself as the middle of nowhere. A dirt road heads off southeast across the mountains to Blythe. To gaze upon the remnant that is Callanan's gas station (at least that is the name that someone someonce spray painted on the canopy) is to understand what the word "dilapidated" really means. It is just a shell that the wind whistles through. But on the very first trip, I skidded Max to a stop and took his picture. It has been a ritual stop ever since, as I watch Callanan's slowly reintegrate with the desert.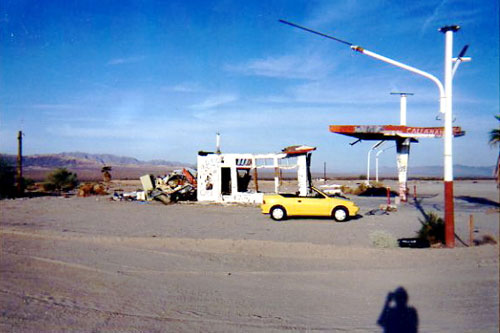 Traffic, as you might imagine, is not a problem in this part of the Mojave and soon we are at Desert Center, little more than an interchange on I-10. We are heading for the Coachella Valley, land of citrus orchards, date palm groves, rich people (Palm Springs, Indian Wells, Palm Desert), and the poor people who serve their needs (Thermal, Coachella, Indio).

The last time I was through, I witnessed my first genuine sandstorm. Just past Chiriaco Summit—those mountains to your right encompass Joshua Tree National Park—traffic began to slow and clog. The wind was whipping down from the north and the sky was the color of adobe. The distance of real murk was only about half a mile, but murk it was. We crept along at about 5 mph, the only thing visible the tail lights and flickering brake lights inches ahead. Sand was half of it, the other half wind. This stretch of I-10 is built up above the surrounding desert. I presume that the engineers had their good reasons, but the semis and big RVs were sitting ducks. Those truckers who were lucky enough to find space on the roadside to maneuver did so, backing their rigs butt-end into the wind. Others were not so lucky. I counted three 18-wheelers and a bus-sized RV flipped on their sides like Tonka toys. Wish I'd had a CB receiver.


Prudence suggested that I get off at the next exit and head for Mecca, the one in California on the other side of a pretty dusty—I mean a pretty, dusty—canyon, and I have been doing so ever since. At Mecca, we'll go south a few miles to the Salton Sea. That's Salton as in "salt." The largest lake in California, it is about 230 feet below sea level at the surface and, at the bottom, almost as low as Badwater in Death Valley. Fifty years ago, developers saw this as wonderful resort opportunity. Why go all the way to the Coast when you had it all right here? Dreams were dreamed, options optioned, and a few ambitiously big beachfront motels built. All you will find today are boarded-up relics and a place called Bombay Beach.
Let's backtrack. Dates will make a fine brunch and Mecca is the place to get them.
Back up CA 111 we go, through Indio, then La Quinta, Indian Wells, Palm Desert—a seamless strip of balmy luxury, culminating in the jewel in the crown, Palm Springs. But we are not going that far. At the north end of Palm Desert we hook a left onto CA 74 and climb into the mountains. We'll stop at the overlook. Way down there is the Eden we just left, Mercedes and Porsches and Hummers twinkling their way up and down 111.
CA 74 begins in Palm Desert and runs—an apt word—all the way to the Coast at Dana Point. Up and down it goes, twisting through the mountains. It is a road to be welted, and the Little Red Beast thrums with anticipation. Above that overlook it gets very twisty indeed, a chain of blind curves. Third gear road, for sure. Then it straightens a bit down the backside into the high meadow of Idyllwild and Mountain Center. Vacation cabins peek out of the pines.
We drop into Hemet, an unpretentious city of convenience stores and car dealers and discount furniture outlets. But on the way down we have come whipping around turns and had staggering, jaw-dropping vistas open up to us (if you squint you can—I swear—see the ocean). We toddle through more of the real world until we get to Lake Elsinore. There is an old barn-like grocery store at the turn-off back into the mountains. I always stop for a coffee or a soda. Might jinx things if I didn't.
Up we go again. (From here west, 74 is also called the Ortega Highway.) Up. Up. Oh, the Beast is in his element and Lake Elsinore a sapphire dropped carelessly on the valley floor. Then the long wending to the Coast, twisting and shifting down through the forest. Wonder what the time-servers and the home-bound are doing this afternoon. Had we the time and attention, our hearts should go out to them, no?
But time and miles are, alas, running out. From Dana Point we head north to "Casa de Cos," where surely our host will have a couple of cold ones waiting for us. Ah, yes. So good. Around us are torrey pines, bougainvillea, ice plant, palms of all sorts: we're not in Albuquerque any more, Toto.
And just look at that blue Pacific!
Subscribe to our email newsletter
Sign up and get Macinstruct's tutorials delivered to your inbox. No spam, promise!